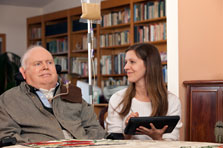 Our Care Management services ensure professional home care services and can provide higher levels of care when needed.Beginning with your initial Assessment our Nurse Care Manager will spend time to understand your care needs and requests in order to help you remain independent in the comfort of your home.
Care Management
Martha's Hands provides Care Management for all of our clients. Elements of Care Management that you will receive will include:
Initial Nursing Assessment

Service Plan Coordination with other professionals

Service Plan Development

Service Plan Refinement

Caregiver In-Home Orientation

Regular In-Home Supervisory Visits

24-Hour Phone Nursing Support
With this Nurse Care Manager model, client's
needs are more accurately and quickly addressed
to improve care. This oversight also provides you peace of mind; knowing that our nurse is advocating on your behalf.
Advanced Care Management Services
In addition to the Care Managementservices listed above, we also offer
Advanced Care Management and Skilled Nursing services on a private-duty basis.
Medication Management/Medication Set-up

Medication Administration

Doctor Visit Coordination

Doctor Visit Attendance and Advocacy

Long-Term Care Planning

Diabetic Care Coordination

Disease Management

Feeding Tube Care

Wound Care

Catheter Care Management