Our mission, "We serve with our hands and love with our hearts and seek the face of our Creator in those we serve," inspires everything we do. We became the caring company we are today because of the compassionate spirit of our Founder, Eileen McCaffrey Hedrick, RN, BSHA.  Her family foundations, especially her son David, appreciation for her education in healthcare and success in other business ventures created the cornerstone of our success.
Eileen grew up in a family that lived a life of service.  She was surrounded by her loving parents, priests, nuns, social workers, teachers, service men, doctors, nurses, and professionals in science.  Eileen enjoyed volunteering in her school, community, and church 
Inspired by her family's commitment to service, Eileen enrolled and received her nursing training by the Sisters of Mercy at St. Johns/Mercy Hospital.  The Sisters of Mercy provided excellent foundations in nursing training while stressing the holistic approach of compassionate nursing care of healthy body, mind, and spirit.
John David was the original inspiration behind our compassionate spirit and service at Martha's Hands. He taught us how to use our hands and hearts to be with someone who is sick and unable to take care of themselves.  John David's life and death taught us this spirit of caring which we have made our mission. "The Martha's Hands Way"TM based on the Mother Teresa quote,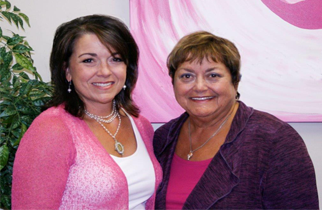 "We serve with our hands, love with our hearts, and seek the face of our creator in those we serve."
With encouragement from family and friends, Eileen's mission became the foundation for her new home caring company, Martha's Hands. Eileen focused on finding committed caregivers and sharing with them the lessons of the Sisters of Mercy so they would provide that compassion and excellence in home care.
Her husband, John Hedrick, had built his own success in business; owning and running his own automation & control engineering company.  Her daughter, Denise Hedrick Huber, brought her expertise in communication and interpersonal relationship development.  With their help and the support of other family members, Martha's Hands was launched in 1997.  As Martha's Hands continues to grow, Eileen has brought on other talented individuals to help with her mission.  Her daughter, Nicole Hedrick Seavey, joined the leadership team in human resources and technology.  Her other daughter, Helene Hedrick, provides Art Services to our clients. Others have joined the mission, yet Eileen treats all of her team members as family.
We are especially grateful to those who have entrusted their loved ones to our care.  In 2015, Martha's Hands reached a significant milestone by providing their 3,000,000th hour of service. While Martha's Hands continues to grow and expand, we will never lose focus of our foundations. The Martha's Hands Team is determined to provide excellent and compassionate care inspired by our mission….
"We serve with our Hands, Love with our Hearts, and Seek the Face of our Creator in those We Serve." – Mother Teresa
Mission Story
Martha's Hands
Martha's Hands references the Biblical person of Martha and her sister, Mary.  'Martha's Hands,' embodies the concepts of hard work, dedication, and selfless compassionate care for another.
Mary's Heart
'Mary's Heart,' embodies the concepts of emotional and spiritual care, concern, compassion, and devotion to acting in God's name.  We feel we are called to serve others in a loving and compassionate way. Our logo reminds us of this call to serve.